What are the Walkabout Slings made of?
Our slings are 100% cotton drill –durable, breathable and strong yet not too thick.
Will the fabric fade?
100% cotton, naturally the fabric will fade a little over time.
Can I wash the sling?
Yes you can. Please follow care instructions to prolong its life. Wash separately before use.
Do not dry clean. Warm gentle machine.Do not bleach. Dry in shade. Warm iron on reverse side.
Can I carry newborn in this sling?
Yes, you can. Sling is designed to be used from newborn to toddler.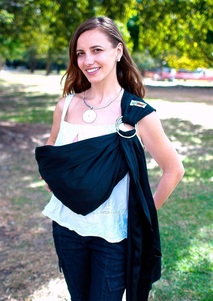 Do I need a bigger sling when my baby gets bigger?
NO. Sling ring can be adjusted so you you only need one sling.
Pouch sling also goes by person wearing it not the size of the baby.
My baby cries when it is in the sling. Is there something that I can fix with my wearing?
Most babies like to be carried in the sling but sometimes for some babies it takes longer to get us to it. If your baby complains in the sling, here are some suggestions: Give the baby a few minutes to get used to it. As with anything new, being in a sling can takes getting used to. If your baby isn't crying, but is just "complaining" a little bit, give him a few minutes to adjust to being inside the sling. If he becomes very upset, take him out and try again later. The younger you start, the better, but any age baby can adjust to being carried in a sling. It just may take some time for your particular baby.
Try different position. Most importantly relax. Go for a walk.
Do I need assistance to put the sling on?
No! But we highly recommend that you study wearing instruction before first use.
Otherwise Walkabout Sling is very simple to use. Only takes of seconds to put it on and take it off.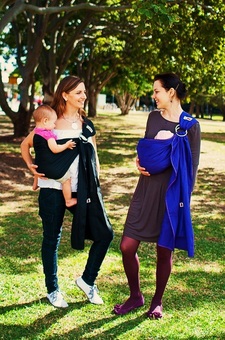 Delivery Policy :

If I buy a Walkabout Sling over the Internet how long will it take to arrive?
Walkabout Slings are shipped form Brisbane ,Australia.
Delivery Australia wide can be between 1 -6 days. International postage could take up to 3 weeks.
Can I get refund or exchange?
Yes, you can as long as sling is in new and unused condition. Sling has to be returned within 14 days.
Please note that postage and packing costs are non-refundable and return postage costs are the customer's responsibility.
Other
Can people with back problems use a Walkabout Sling?
Yes! However, depending on the seriousness of the problem you may wish to consult with your doctor.
Breast-feeding
Can I breast-feed while wearing the Walkabout Slings?
Yes you can. Sling ring and pouch are perfect for breastfeeding.
With a sling ring you can also use a tail piece as extra cover if needed.
If you have any other questions and inquiries please fill free to contact us. We would be delighted to help you out.